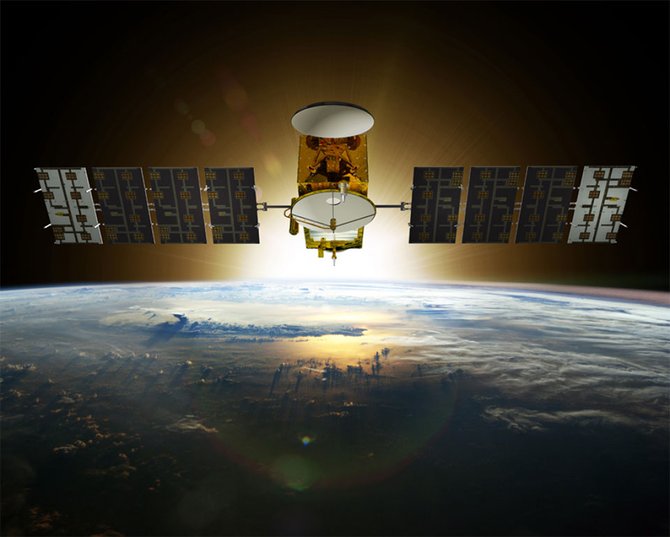 Jason-3 lifted off from Vandenberg Air Force Base in California aboard a Falcon 9 rocket, to become the latest spacecraft to track the rate of global sea-level rise.

Jason-3 and OSTM/Jason-2 involves CNES (Centre National d'Etudes Spatiales), NASA (United States National Aeronautics and Space Administration) and 2 additional partners: the European Organisation for the Exploitation of Meteorological Satellites (EUMETSAT) and the National Oceanic and Atmospheric Administration (NOAA) in order to facilitate the transition to a fully operational altimetry mission, able to satisfy the data timeliness and reliability requirements of operational applications.

The satellite is named after the leader of the Argonauts' famous quest to recover the Golden Fleece. Jason-3 is a follow-on mission to OSTM/Jason-2. The Jason-3 mission takes over and continues the TOPEX/Poseidon, Jason-1 and OSTM/Jason-2 missions. Since the Topex/Poseidon, and Jason satellite missions started in 1992, researchers have observed global sea-level rise occurring at a rate of 3 mm a year, resulting in a total change of 70 mm – or 2.8 inches – in 23 years.
Jason-3 will continue the legacy of the Topex/Poseidon and earlier Jason satellites by gathering environmental intelligence from the world's oceans.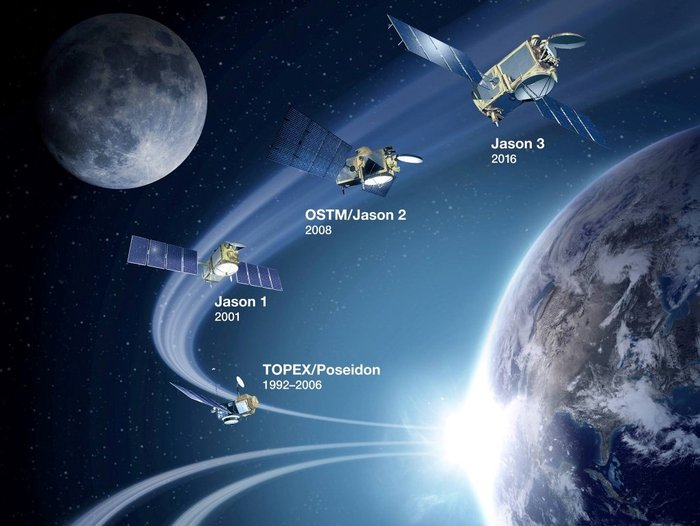 Jason-3 will tell us about the heat of the ocean, vital data if a tropical storm or hurricane is tracking into that location. Having up-to-date sea surface temperatures will help international forecasters better determine if a storm may intensify.
Data from Jason-3 will be used for other scientific, commercial, and operational applications, including: deep-ocean and wave modeling, surface wave forecasting for offshore operators; forecasting tides and currents for commercial shipping and ship routing; coastal forecasting for response to environmental challenges.
Jason-3's highly accurate altimetry measurements will be used for a variety of scientific, commercial and operational applications, including:
Hurricane intensity forecasting
Surface wave forecasting for offshore operators
Forecasting tides and currents for commercial shipping and ship routing
Coastal forecasting for response to environmental problems like oil spills and harmful algal blooms
Coastal modeling crucial for marine mammal and coral reef research
El Niño and La Niña forecasting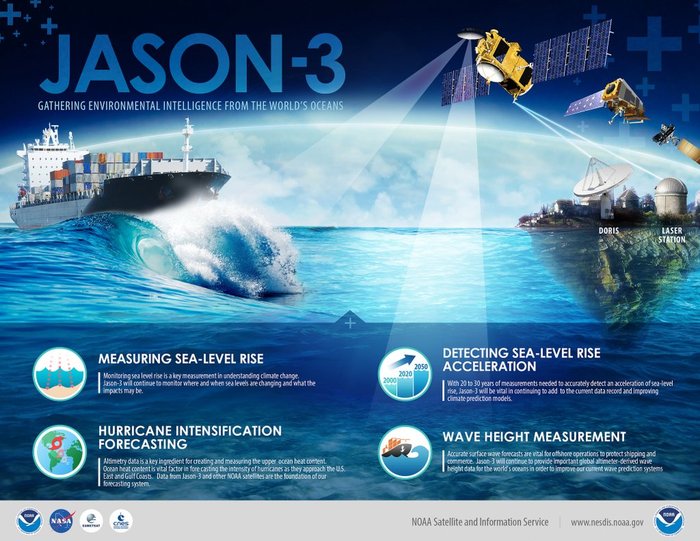 John Grunsfeld, associate administrator for science at NASA Headquarters says: "The measurements from Jason-3 will advance our efforts to understand the Earth as a system and the causes of sea level rise."
Jason-3 is the newest satellite in a series designed to maintain long-term satellite altimetry observations of global sea surface height. These data provide critical ocean information that forecasters need to predict devastating hurricanes and severe weather before they arrive onshore. Over the long term, Jason-3 will help us to track global sea level rise, an increasing threat to the resilience of coastal communities and to the health of our environment.